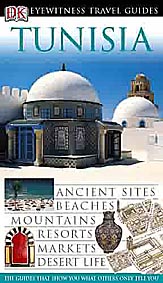 Pour Visiter l'ouvrage
cliquez sur la couverture ci-dessus
353 pages, 13  x 21,7 cm.
  
Résumé
Recognized the world over by frequent flyers and armchair travelers alike, Eyewitness Travel Guides are the most colorful and comprehensive guides on the market. With beautifully commissioned photographs and spectacular 3-D aerial views revealing the charm of each destination, these amazing travel guides show what others only tell.
With this lavishly illustrated guide at your side, you can explore all that Tunisia has to offer.
Your holiday starts here! From the hot springs of Hamman Mellegue to the lunar landscape of Matmata, discover it all with this essential guide to Tunisia. Explore the Roman ruins of Carthage with the unique 3D models, and use the street maps to find the best bazaars to pick up a bargain.
# Tips on where to enjoy the local cuisine.
# Highlights of the best beaches in Hammamet.
# Explanations of the many customs in this beautiful country.
With its clear skies and stunning scenery, Tunisia offers a charming blend of Islamic, Berber and European culture. It also has a good infrastructure for visitors, and tourist zones where top-level hotels and yachting marinas can be found. This book will ensure you enjoy 1001 Arabian nights however long your stay.


| | |
| --- | --- |
| | |
| Italien | Espagnol |